The Art of Attraction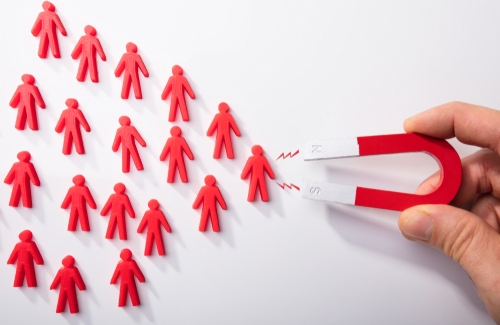 The war for talent has intensified within veterinary medicine. With the uprising of corporate practices coupled with the increase of pet ownership, hiring veterinary staff has become a challenge for many organizations. Many companies have addressed this looming challenge by increasing salaries and diversifying their benefits packages, including offering sign-on bonuses. While a lofty idea, this strategy has become the norm among many organizations resulting in a standard equalizer. Veterinary practices that seek to stand out from the pack must differentiate themselves. In other words, the art of attracting talent goes beyond surface-level strategies duplicated by the masses and requires a well-thought-out branding approach. This article will address the art of talent attraction.
Define your unique talent value proposition.
In today's landscape, if you take a scroll on social media, veterinary practices are hiring in the masses, particularly with the expansion of corporate consolidations. Often, the advertising appears to be one large blurb of now hiring that contains beautiful pictures of cities, hospitals, or teams as a means to stand. It's imperative to define what makes your company unique to attract talent. In other words, what is your talent value proposition? In marketing, value is the benefits an employee receives to meet their needs in exchange for their time and talent. All things equal, value is different for various people. For example, new grads most often are seeking mentorship, development, and the ability to partner with an experienced doctor to build their confidence and skills. Experienced doctors may be seeking flexibility in scheduling, a focus on well-being, excellent support staff, the ability to work up cases and practice quality medicine without being beholden to cookie-cutter treatment plans. Of course for both new grads, experience doctors and hospital staff pay and benefits are important. As you are building your overarching talent attraction strategy, hone in on your target audience and identify what's critical for them. For example, your talent value proposition can be segmented into unique audiences such as new graduates, experienced doctors with two -five years of experience, leaders and doctors who are interested in only working part-time. Building a great talent value proposition is the basic building block for defining your target and how you will communicate to them.

Identify your target audience.
When a practice seeks to hire, they often cast a wide net in hopes of attracting talent. Time spent identifying the needs of the hospital is critical to attracting the right person for the role. Think about current staff, clients, location, career growth to help define the ideal candidate. For example, if the hospital is a two-doctor location seeking to expand to a third doctor due to business growth, a new graduate may be suitable if the practice has the capacity to coach, mentor and has suitable support staff. However, if the hospital is a two-doctor practice and has a low doctor to para ratio, an experienced doctor with at least two years of experience may be a better fit. The key to remember the needs vary. Time spent evaluating the intended target audience will be worth the invested time as this information will be critical in developing the appropriate advertising and communication to attract the right doctor or staff.
What's in it for me (WIIFM)
Often a novel concept is missed when a hospital seeks to attract talent—an idea known as What's In It For Me (WIIFM). Typically, job advertising focuses on the company rather than the job seeker. Some companies leverage the job description as their job ad, which provides a long laundry list of job requirements. Job description are a critical part of the hiring process and should be used when interviewing the candidate to ensure they understand the basic job requirements. Job descriptions and a job advertisements should not be confused. When communicating with prospects, think about "what value" the organization can provide to the job seeker? The target audience must see themselves in the role. Thus the advertisement is a powerful tool to address the needs of the job seeker. Here's an example, "Are you looking to balance your work-life? Animal Hospital XYZ is a multi-doctor practice that offering flexible schedules including no weekend work".
Plan of action and channels to promote and communicate
The art of attraction encompasses the talent value proposition, a target audience, and ensuring the advertisement addresses What's In It For Me (WIIFM). Depending upon your hiring goals, the following steps are to develop a strategic recruiting plan of action to promote and communicate your hiring needs by identifying channels to convey your message.
For example, if you elect to hire a new grad, your strategy would encompass a multi-prong approach. Examples include the following:
Advertising available externship

Posting full-time opportunities across various job sites, including veterinary school job boards

Networking

Connecting on social media sites such as LinkedIn and Instagram

Leveraging referrals

Creating videos to encapsulate your unique talent value proposition and so much more!
Every organization is unique, creating an art of attraction strategy is imperative to hiring the right people, at the right time for your practice. While this article hits a few key points to leverage a strong marketing and branding, there is so much more. We are committed to helping practices build a talent acquisition strategy to help attract and hire great people.
About us
Exalt Hire, LLC. is a strategic talent acquisition consulting firm. We help our clients attract, hire and retain the critical talent they need to achieve business success. Additionally, great organizations start with great people; we support the development and advancement of associates and job seekers by providing professional job coaching services.